Fake plants can be a great addition to your home or office decor, but they can look unnatural and detract from the overall aesthetic if they don't look realistic. Fortunately, there are many ways to make fake plants look more lifelike and blend seamlessly with their surroundings.
In this post, we'll explore some tips and tricks on how to make fake plants look real.
Why You Need to Make Fake Plants Look Real
Using wholesale fake plants is a convenient and cost-effective way to add greenery to a room without the hassle of maintenance. However, poorly executed fake plants can look dull, lifeless, and unrealistic, which can limit the beauty of the space. This is especially true if the fake plants are placed in prominent areas where they are easily noticed.
To avoid this, it's essential to take steps to make your fake plants look as realistic as possible. This can include adding natural elements like soil or rocks to the base of the plant, varying the height and shape of the foliage, and ensuring that the leaves and stems are not all perfectly symmetrical. Paying attention to details like this can add warmth, texture, and color to the space, making it feel more inviting and aesthetically pleasing.
How to Make Fake Plants Look Real
How to make artificial plants look real can be a tricky task, but there are several techniques you can use to achieve a more natural appearance.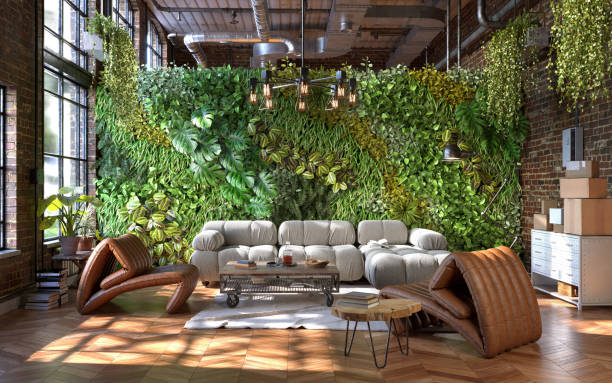 Below, we will highlight several ideas on how to make a fake plant look real.
Add Shine
One of the most noticeable differences between real and fake plants is the shine. Natural plants have a dull, matte finish, while fake plants often have a plastic-looking sheen. To make fake plants look more realistic, you can add some shine, but be careful not to overdo it. You can use a spray-on matte sealer to tone down the shine or apply a light coat of gloss spray to add a subtle sheen.
Mix in Real Plants
An easy way to make fake plants look real is to mix them with real plants. By combining fake and real plants, you can create a more authentic look that blends seamlessly into the natural environment. You can also use real plants to cover up any visible parts of an artificial green wall that might look unnatural.
Take them Outside
Another way to make fake plants look more realistic is to take them outside. The natural sunlight and elements will help to break down the plastic and give the plants a more natural, weathered appearance. Another benefit you enjoy from this is that there will be no more insects crawling in-between the plants.
Store them in Planters
Fake plants are always delivered in factory containers, which are not designed to fit into home décor. Use planters with a natural finish, such as terracotta or ceramic, to mimic the look of real plants. Additionally, using a planter can help to cover up any plastic parts of the fake plants that might give them away.
Keep Them Clean
Even though real plants get dirty like fake plants, their composition and looks change due to wind and sun. But fake plants don't react to them, making them harbor dust and debris, which makes them look unnatural. To avoid this, dust them regularly with a soft cloth or a feather duster. You can also use a silk plant cleaner to clean and condition the leaves.
Add Real Soil or Moss inside the Planter
Another fantastic way to play the trickster is to add real soil or moss inside the planter. This trick is especially effective for potted plants that are placed indoors. By adding a layer of soil or moss, you can make the plant look more natural and rooted in its surroundings. However, you need to change the soil regularly as contaminants can enter and mix with water, causing bacteria growth.
Spray Light Mist in the Leaves
A noticeable character of real plants is that they are always moist, since plants are 90% water. To achieve this with your fake plants, spray a light mist of water on the leaves to create a more realistic appearance. You can use a spray bottle filled with water to mist the leaves and give them a fresh, dewy look. Be sure not to overwater the plants, as too much water can damage the material and make the plant look even more fake.
Accessories around Them
Accessories contribute to making fake plants look real. For example, placing a few pebbles, rocks, or twigs around the base of the plant can make it look like it belongs in a natural environment. You can also use decorative planters, baskets, or vases to enhance the plant's overall appearance.
Trim the Edges
Real plants have irregular, uneven edges, so you can use scissors or pruning shears to trim the edges of your fake plants to create a similar effect. Be sure to trim the edges carefully and evenly to avoid damaging the plant's material.
Place Them in Direct Sunlight
You can utilize all the ideas on how to make artificial plants look real, but if they are tucked away in some dark corner, they will be regarded as fake. You can place them in direct sunlight in front of a window or even an outdoor patio to create an illusion of authenticity.
How to Decorate Fake Plants to be More Realistic
Decorating with fake plants is a great way to add a touch of nature to your home or office without worrying about maintenance. Even Architectural Digest's Times Square office lobby is decorated with artificial plants, making visitors feel the ambiance of nature.
Here are seven tips on how to make fake plants look real from their decoration:
Upgrade Your Planter
Choosing an attractive planter can make a big difference in the overall look of your fake plants. Consider upgrading your planter to something more stylish and eye-catching. The planter can even steal the show, making it and the plant the focal point of the room. Look for planters made of natural materials like ceramic, terracotta, or woven baskets to make it look even more realistic.
Shape Up
Avoid perfect symmetry when decorating with fake plants. Instead, try arranging them in odd patterns or in a slightly haphazard way to create a more organic and natural look. It is also essential to consider the different shapes and sizes of the plants and arrange them in a way that complements their unique characteristics.
Hang Them High
Hanging fake plants high up on the wall or ceiling can create a unique and dramatic effect. Consider hanging a variety of fake plants in different sizes and shapes to add depth and interest to your space.
Faux Centerpiece
Artificial plants can also make great centerpieces. Use a combination of wholesale faux greenery in different heights and textures, and arrange them in a container with rocks or pebbles to create a natural-looking focal point. You can also use a tray or a wooden box to display them on your dining table or coffee table.
Hand Paint the Stems
If you want to add an extra touch of realism to your fake plants, consider hand-painting the stems. Using acrylic paint, you can add a bit of shading and texture to the stems to make them look more natural. This technique is especially effective for fake succulents and cacti.
Repot with Organic Filler
Consider adding organic touch by repotting the plants with organic fillers like moss, sand, or small stones. This will make them look more like they belong in a natural environment.
Pick a Believable Location
When decorating with fake plants, it is essential to consider the location and context. For example, placing fake tropical plants in a room with a beachy theme will make them look more believable.
Contact DYArtificial for Fake Plants that Look Real
DYArtificial is a leading artificial plants factory that has been in operation since 1998, amassing years of experience in supplying fake plants that look real. With a wide range of artificial plants, including trees, flowers, topiary hedges, and fiberglass pots, we provide professional advice to make your indoor and outdoor décor extremely beautiful.
Having a 20,000m² state-of-the-art factory, and two brother companies that focus on Artificial Plant Wall panels and Fiberglass Planters, we serve as a one-stop service provider to meet your needs. While the current industry lead time is about 2-3 months, we complete production within 40 days. And all our faux plants are cost-efective as they are manufactured to be resistant to harsh conditions, such as UV rays and fire.
Prioritizing quality and offering the best prices in the industry, we also provide the best warranty policy to guarantee the satisfaction of our customers.
Conclusion
Ultimately, the goal of making fake plants look real is to create an illusion that can fool the eye and enhance the ambiance of a space. Whether you're using fake plants for practical or aesthetic purposes, putting effort into making them look real can be well worth it in the end.
Following the discussed tricks on how to make fake plants look real, what's left is for you to implement them. At DYArtificial, we supply the best set of artificial plants that look and function as real ones. And we also offer assistance in setting up your décor to be flawless with the plants. You can contact us to get started.
Frequently Asked Questions about Real-looking Plants
Are Fake Plants Tacky?
Fake plants are known for being cheap and fragile, hence why some people refer to them as being tacky. While some artificial plants get damaged after one use, with high-quality artificial plants, you can trust them to last long and function as real plants. Shop with us at DYArtificial to get numerous high-quality options.
What to Fill Fake Plants Pots with to Make them More Realistic
Here are some elements that can be used for filling the pots:
Soil or rocks: Add soil or rocks to the base to anchor the plant in place for a natural look.
Moss: Place moss around the base of the plant to cover any visible plastic or foam.
Gravel: Put a layer of gravel in the base of the plant to create an illusion of weight and stability, making the plant more rooted in the ground.
Real plants: Add some real plants or flowers around the fake ones for a more realistic look.